Jessica - The Readheaded StepChild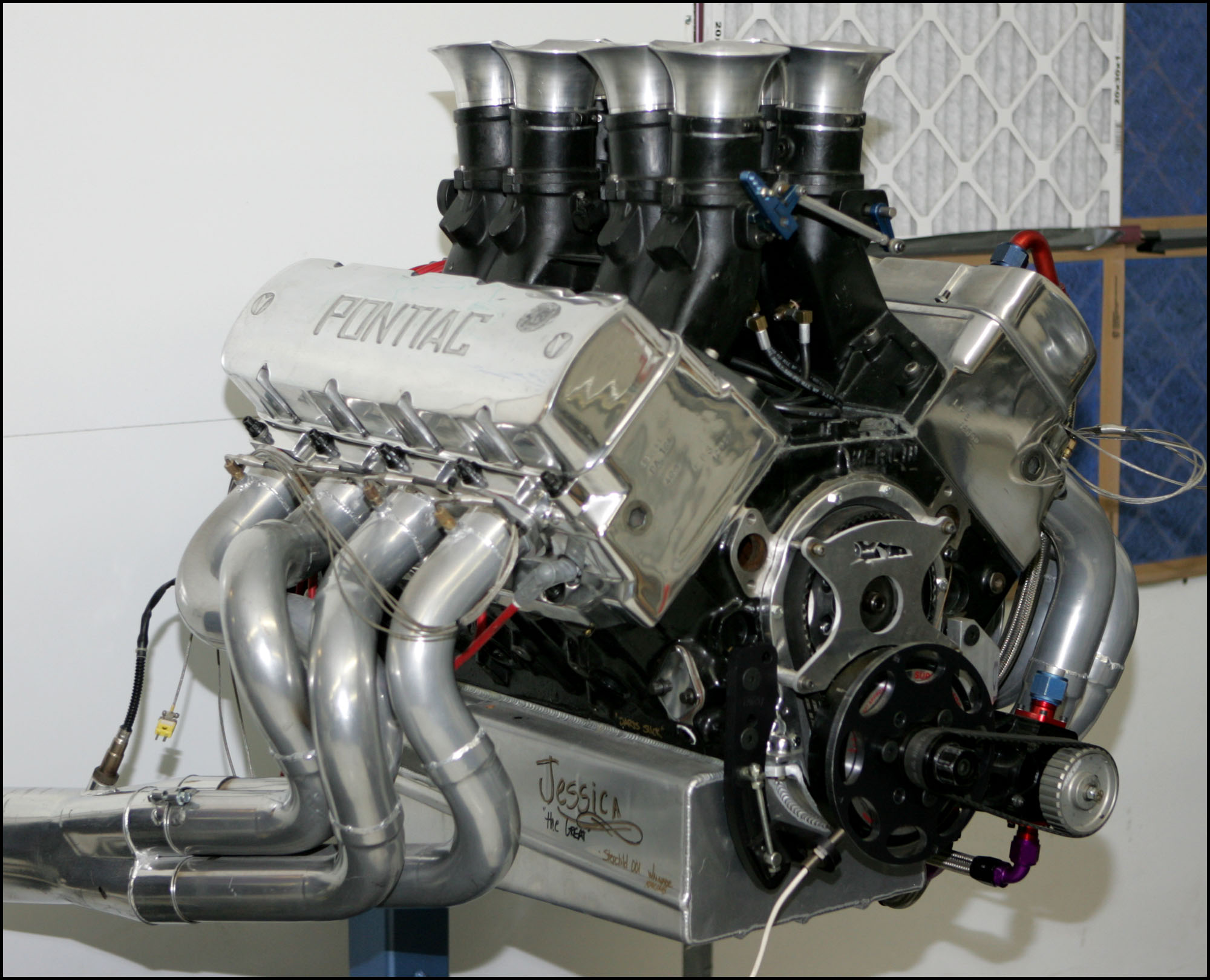 Jessica has been demoted, or promoted, depending on how you look at it.
After completely destroying a powerglide transmission on his first time down the track, Jessica was rebuilt.
Then again, another interesting related failure has Jessica being rebuilt again.
Jessica has been re-assembled with less cubic inches, but the finest precision and care of the following parts.

Merlin Pro 9.800 deck height block with splayed main caps.

Callies magnum 4.125 stoke, 4 lightening hole crank.

Ati SuperDamper and Holley Crank trigger.

Eagle .500 long steel, h-beam rods with L19 bolts.

Clevite 77 h series bearings on the mains and rods.

Precision Products, casidiam coated maraging 350 wrist pins.

Venolia completely custom pistons putting out 15.2:1 compression.
The pistons are fully Poly-Dyn coated on the tops, bottoms and skirts.

Akerly and Childs HTD Moly rings .043, 1/16th/ 3/16.

Pontiac pro stock '427 casting' heads flowing 489 at .800 on the intake.

2.400 Del West titanium valves and 1.88 Manley titanium exhaust valves.

PSI 1248 electropolished springs and Trick Titanium retainers.

Jesel 1.75 rockers on both intake and exhaust.

SCE ISC Titan copper head gaskets that do not require o rings.

Kinsler magnesium 3 piece injectors ported and machined to perfectly fit and flow.

Enderle fuel pump and hilborn nozzles half set up by Gene Adams and the other half by the Wannabe morons.

Jesel belt drive system turns a custom Doug Herbert camshaft netting .860 lift.

Isky .904 RedZone marathon lifters raise Manton 7/16 .120 wall pushrods.

MSD pro stock billet distributor and Holley Annihilator ICT ignition system.

The oiling system is a Peterson external wet sump pump and vacuum pump in one.

With a custom Jeff Johnston Billet oil pan with baffle balls.

(The previous oiling system did not fit in our funny-car, but Jessica is trimmed to be a dragster engine now.
He is going to power the new 265 inch "Big Drag")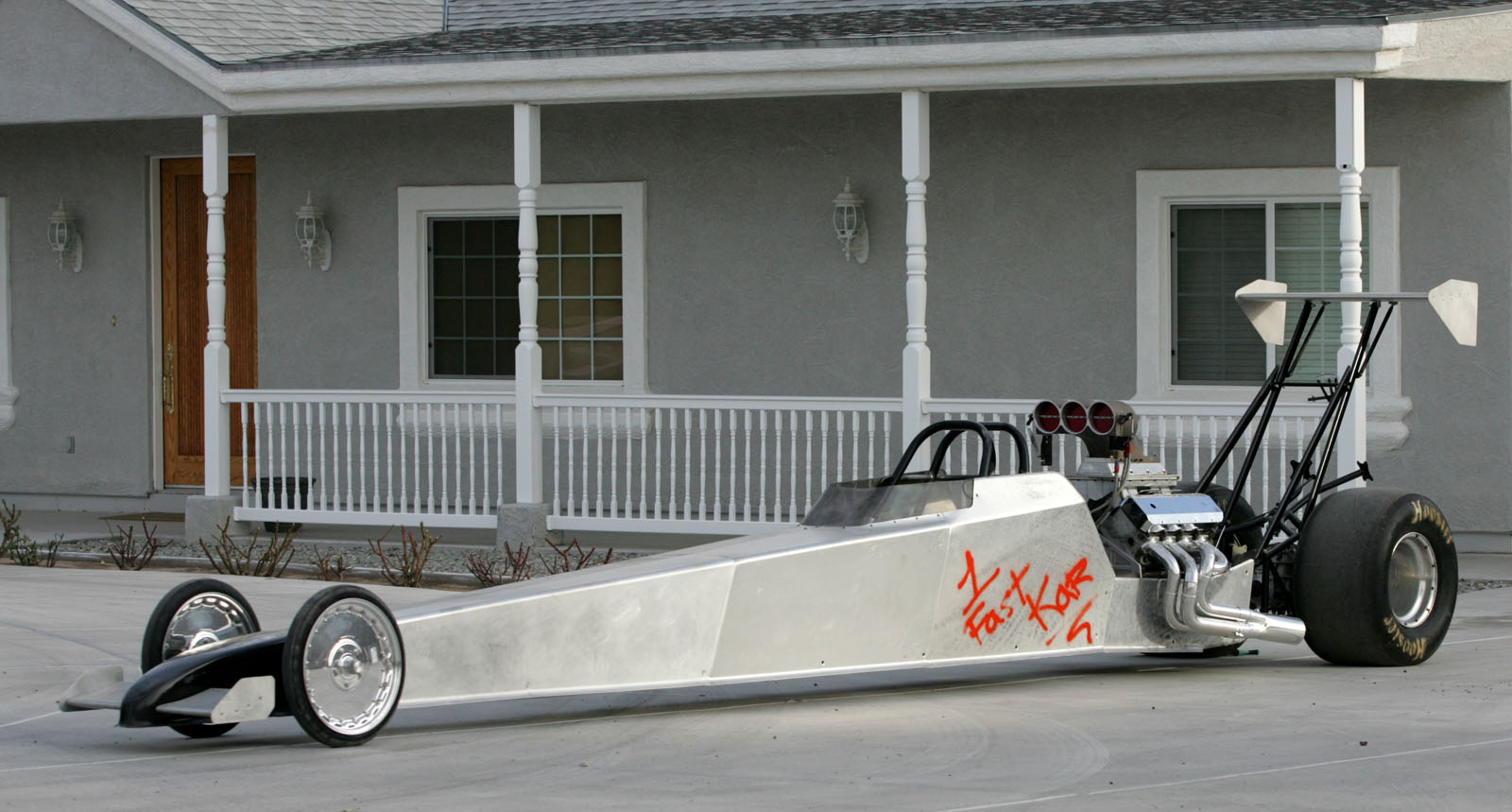 Big Drag has been taken apart and chrome powedercoated and getting ready for late 2009 assembly.
Not only is big drag been improved in looks, but Jessica now has polished heads, new injector bells, etc.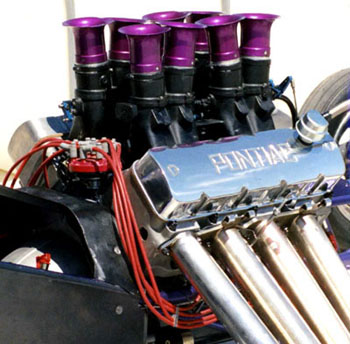 Here Jessica is in funny-car trim before blowing up another $5000 powerglide.