Fat Sam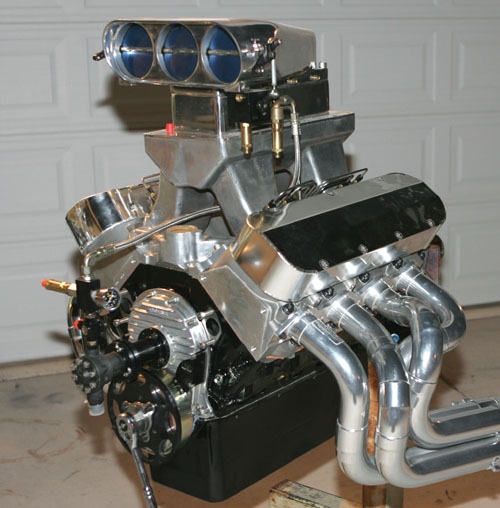 It began with a Dart 10.200 big M block with splayed main caps.

Eagle 4340 crank in a 4.25 stroke and 6.800 long Eagle rods with L19 bolts

JE 4.500 pistons at 13.8:1 and JE wrist pins along with a set of File to fit Moly rings 1/16,1/16,3/16.

Pro Action cylinder heads with a 360CC intake runner, and triple springs with Ti retainers pushing 335lbs.

Manley valves in 2.30 and 1.88 trim.

Jesel pro series rocker arms and stands.

SCE 'ICS Titan' head gaskets and SCE gaskets everywhere else.

A Doug Herbert billet roller cam and Doug Herbert severe duty, pressure fed oiling lifters.

Manton custom pro stock style push rods on the exhaust.

Jesel custom pushrods on the intake.

Pete Jackson gear drive.

Enderle front cover, fuel pump and extension as well as a birdcatcher alcohol injector.

Enderle jets, pills and nozzles fill out the rest of the injection system.

ARP head studs, header studs, intake bolts, and all that jazz.

ATI Superdamper and Holley hall effect crank trigger round off the front.

Moroso blueprinted racing oil pump.

Hamburger extra deep baffled oil pan.