Dr. Frankenstein
This guy is going to be a MONSTER!!!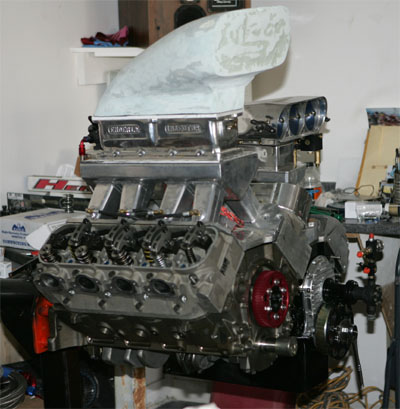 Dr. Frankenstein is built with the following:

Dart Big M 9.8 deck height block.

Drilled for a 55mm roller cam bearings and Jesel .937 keyway lifters.

Sonny Bryant billet crank in a 4.25 stroke.

Eagle Titanium rods in 6.535 length.

Precision Products M350, casidiam coated wrist pins.

Venolia custom pistons, fully lightened, shaped, gas ported and PolyDyn coated.

Akerly and Childs HTD Moly rings .043, 1/16, 3/16

EPD hand ported Symmetrical port Chevy heads.

Manley Titanium valves, PSI electropolished springs, Ti retainers and locks,

Daren Kay custom Titanium rocker arms and fully fabricated one piece stands.

Gordie Rivera custom sheet metal intake drilled for alcohol injection.

Enderle "Barndoor" injector and 8GPM fuel pump.

Wannabe Racing custom carbon fiber scoop for funny-car applications.

Comp Cams belt drive and cam driven Enderle coated fuel pump.

Doug Herbert custom 55mm roller camshaft and Jesel Keyway lifters.

Manton thick wall, tapered 'pro stock' pushrods.

Billet Fabrications custom oil pan with Baffle Balls.

Peterson external oil pump and vacuum pump.

Like the others, 'The Good Doctor' will not be run until the powerglides are gone,
And the B&J three speeds are in place.
No more ruining good engines on broken powerglides.