Lil' Orphan Annie - The Readheaded StepChild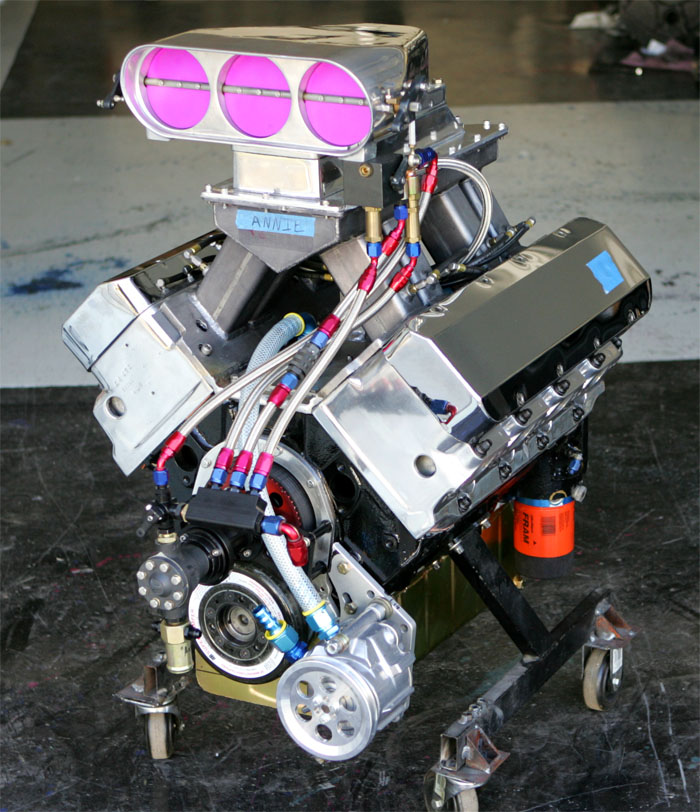 Annie is completed is 605 cubic inch trim and ready to belch alcohol.
The heads are the Pontiac 427 casting for 18 degree use on 4.840 bore spacing engines.
The heads are completed with Del West titanium valves, PSI electropolished springs, and titanium retainers.
The Jesel rocker arm system sit on a one piece, fabricated jesel stand system for perfect geometry.
The cola crank spins 4.5 inches through Eagle rods with L-19 bolts to PPP casidium coated pins and Venolia custom pistons.
Akerly and Childs completed the ring package that rub the bowtie tall deck block.
And before you ask, NO!!! This engine will never be run with a Fram filter. It is just on there to keep the dust out till it hits the dyno.
We would never put a Fram on an engine ever again!
Annie is put in this trim to test out the new Corvette Funny-Car which should hit the track very late 2009, or early 2010.