Wannabe racing is no stranger to custom paint.
In the last few years, many paint jobs
have left the Wannabe Racing Stables.
From custom guitars, to helmets to entire race and show cars.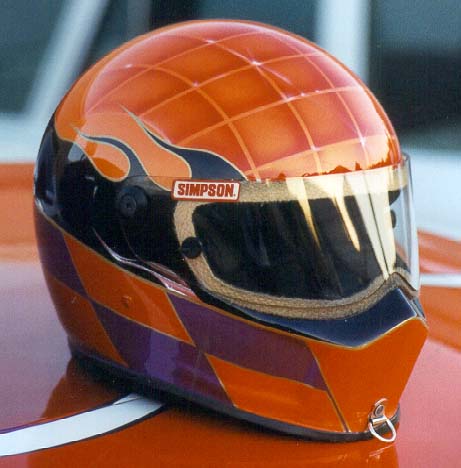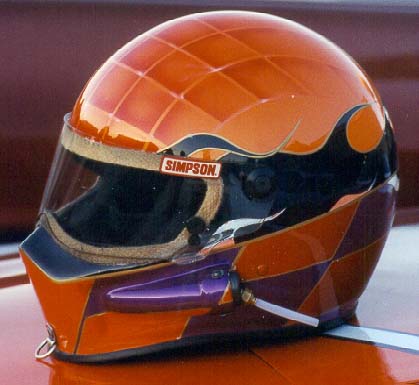 If your runnin' Top Fuel Funny Car, ya gotta have one tough helmet.
Steve Neese got just what the Doctor ordered!
Painted with All X-OTIC paints, pearls and color changing powders- with Du-Pont clear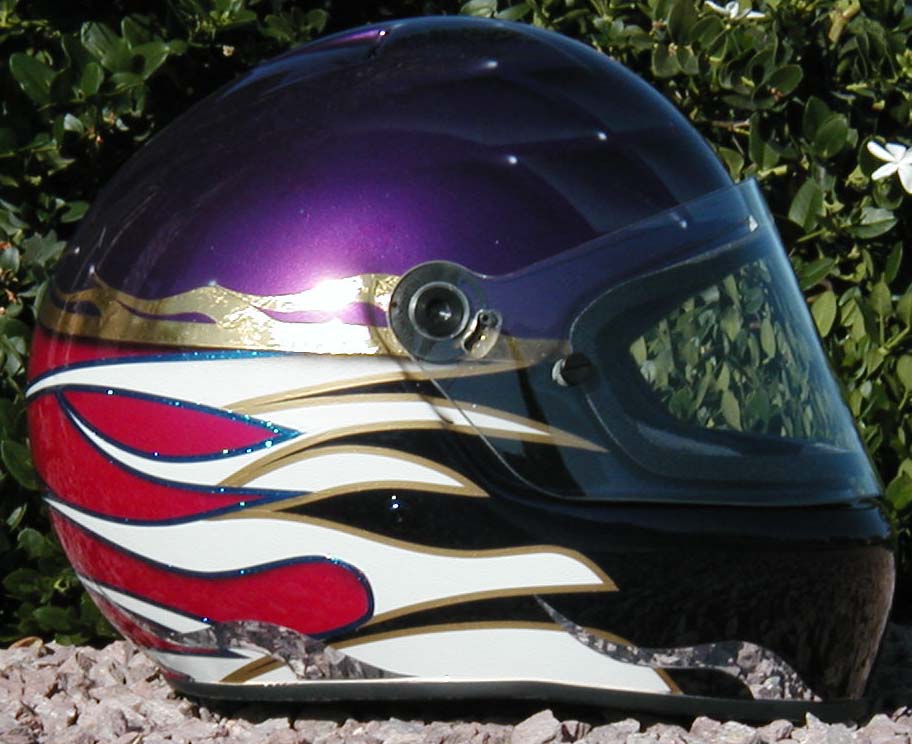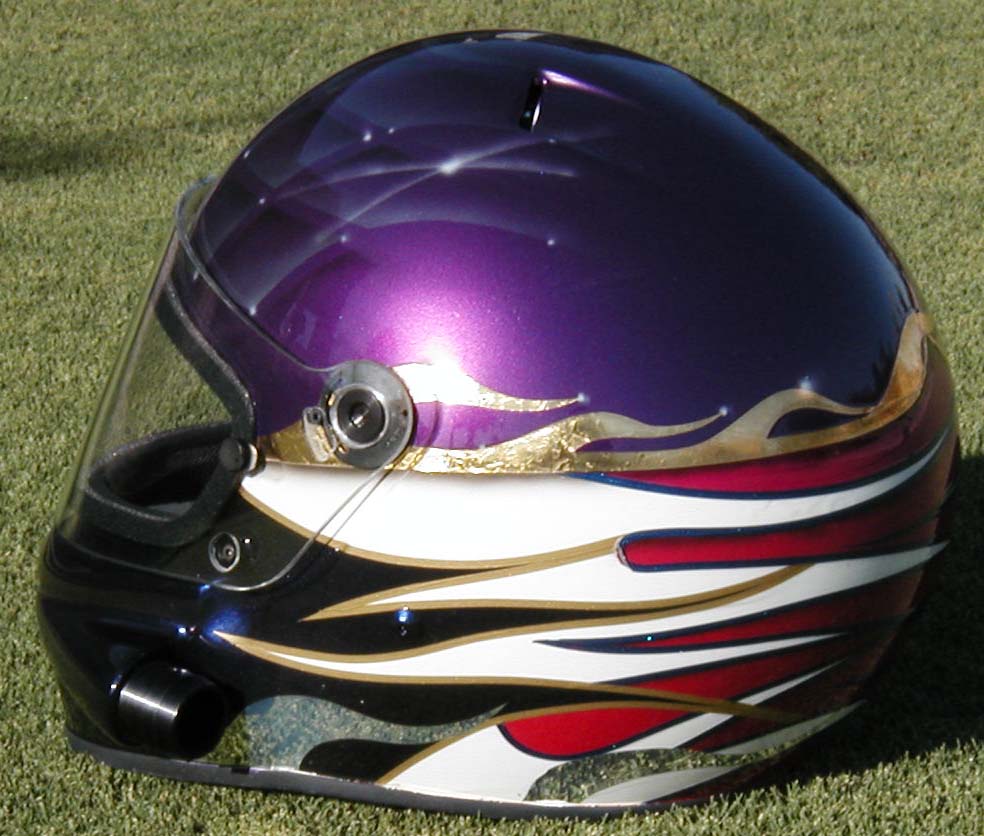 After shooting Steve's hat, the decision was made to follow that base scheme
for Buzzz'z new fresh air helmet.
Buzzz was Flirting with disaster on this helmet,
Experimenting with gold leaf, chrome effects and a mass of color change powders.
All paints are X-OTIC COLOURS bases, candies, pearls and color change powders.
All finished off with 11 various coats of Du-pont 7500 series clears.
(And pics shot from my dads new e-bay purchase- his digital camera.)
A few new hats from the last few months;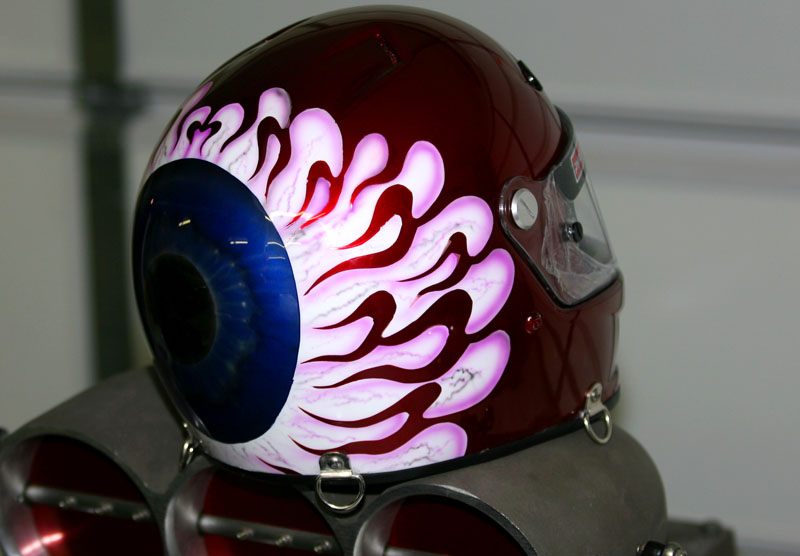 Buzzz was really happy with the color on the orange helmet, but unhappy with the paint job itself. He tried a new lining technique and it did not work as well as he had hoped. However, Paul's trademark eyeball turned out really quite nice. Something to behold in the sun.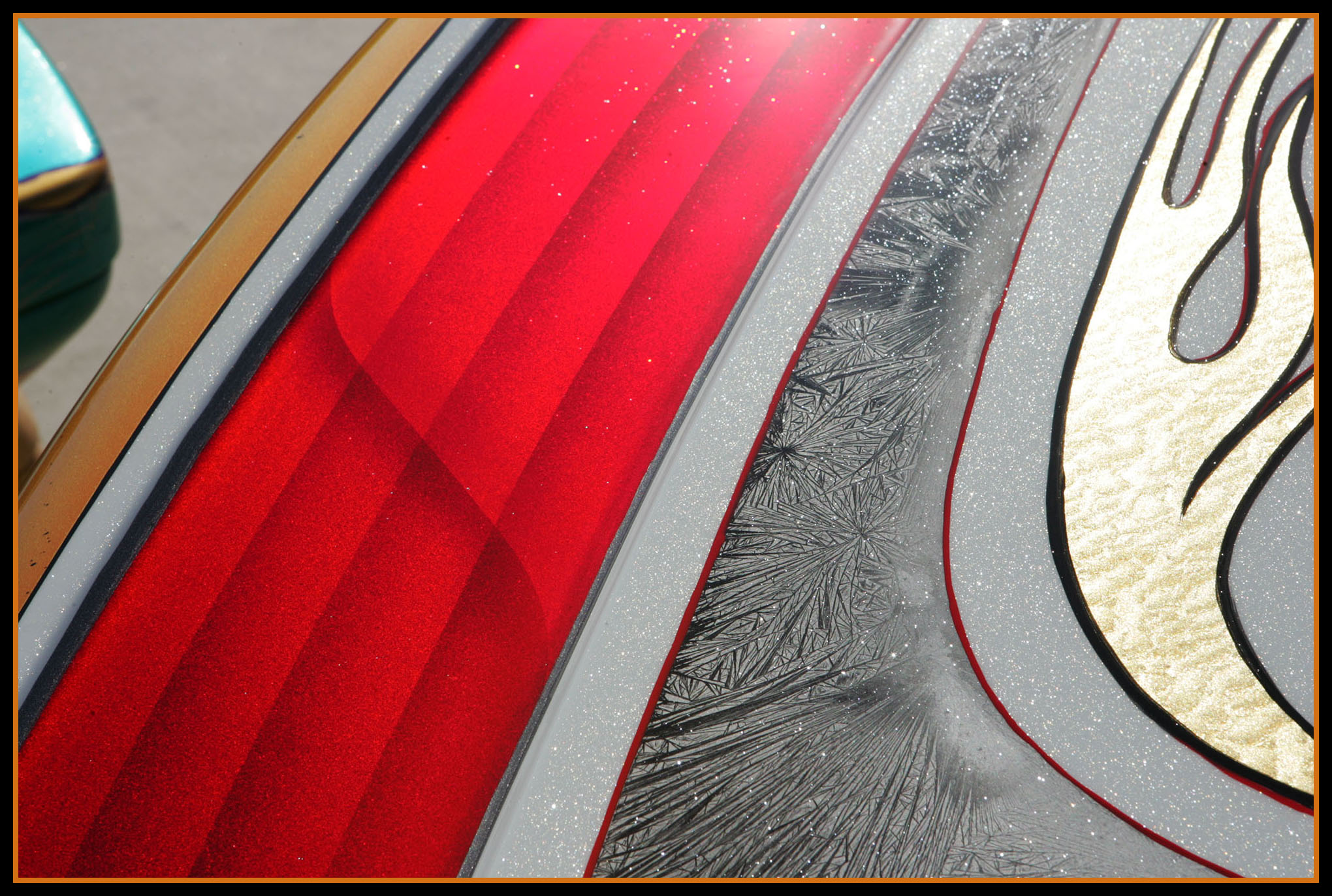 Here are a few new guitars in production.
That is right, Buzzz is making his own guitars from scratch, and paint to match!

Here, the "Activator" takes candy red to a new level. Multiple stages of silver flakes in stages of the candy red.
Come by and see this baby in person. Digital imaging just does not do any justice to this in the sun.

"Humpty" found his name when he kept falling off of the wires hanging him up in production.
Humpty is painted in X-otic candies over silver base on X-otic crystals. Red to orange to gold candies along with red to orange color-changing powders were lightly dusted over the entire axe, then piled on with clear. They give it a cool look that match the sunburst shade. (Again, something to behold in person.)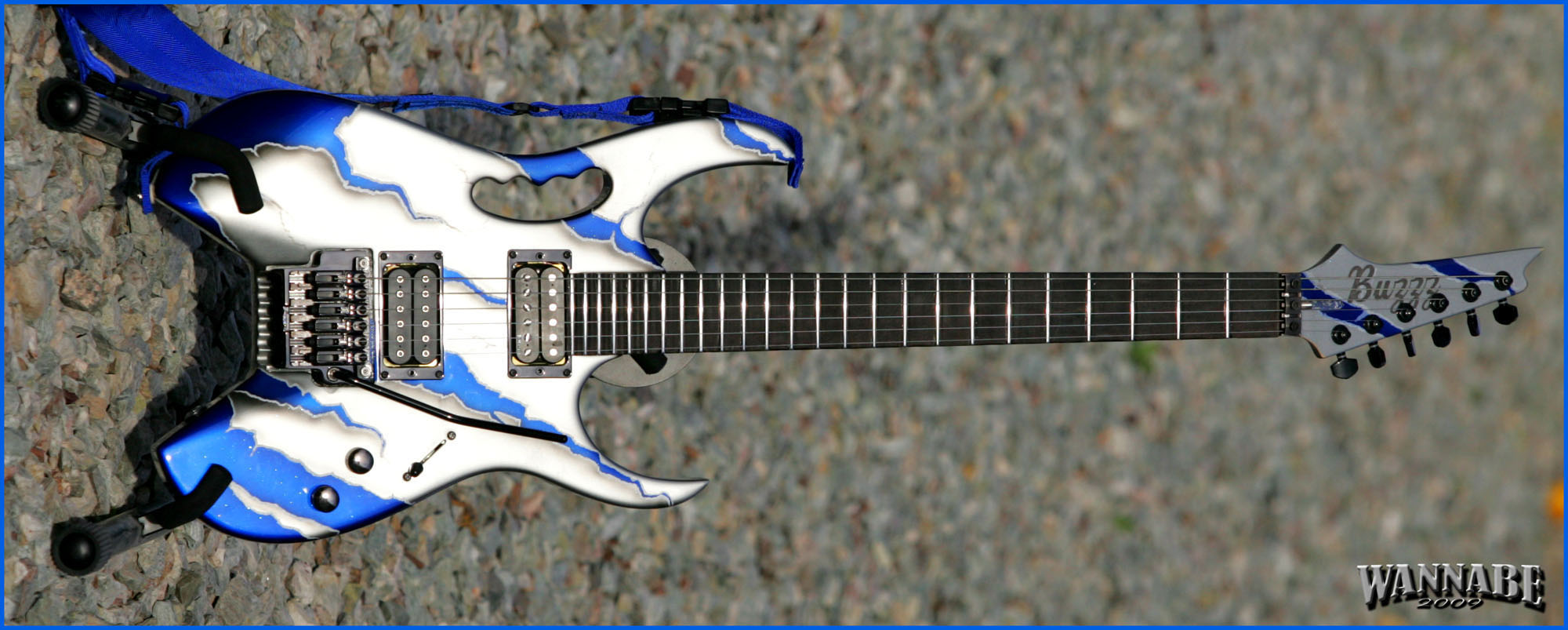 But no one can really say 'piled on' when sitting next to "Mel".
Mel is drenched in 82 coats of paint!!! There is enough distance between the blue and the silver that the sun casts an actual shadow from the blue to the silver. But the silver is the new chrome paint on a vertical sanded background to give it a brushed aluminum look. Pretty cool in person. Tough to capture on digital imaging. Again, in 100% X-otic paints.

Iced Nine started out as a Hamer Californian purchased while in Dearborn, Michigan.
A black base was peppered with x-otic crystals and shot with x-otic silver. Candy teal and blue were custom mixed and added in a burst pattern.
The Dimarzio Gravity Storm is a beast. It makes this super-strat sound like a beefy Les Paul.
Other feaures include an asymetrical neck prifile, a 14-17.5 compound scale, stainless jumbo frets and carbon fiber reinforced neck joint and tungsten drilled headstock.
"Flying perfection" is a sight in both sunlight and artificial light. (Especially spotlights on stage.)
A pattern of silver large flake was painted on a black base. Then candy purple over the whole lot.
A great effect when used in large fades. Try fading to black, but have this as the color instead of the flat black.
It will look like normal till you get up on it, and then watch the people flip out over the black not being actual black.
Now we get to "The Outlaw", K-39. The 1985 National Champion of the K boat class.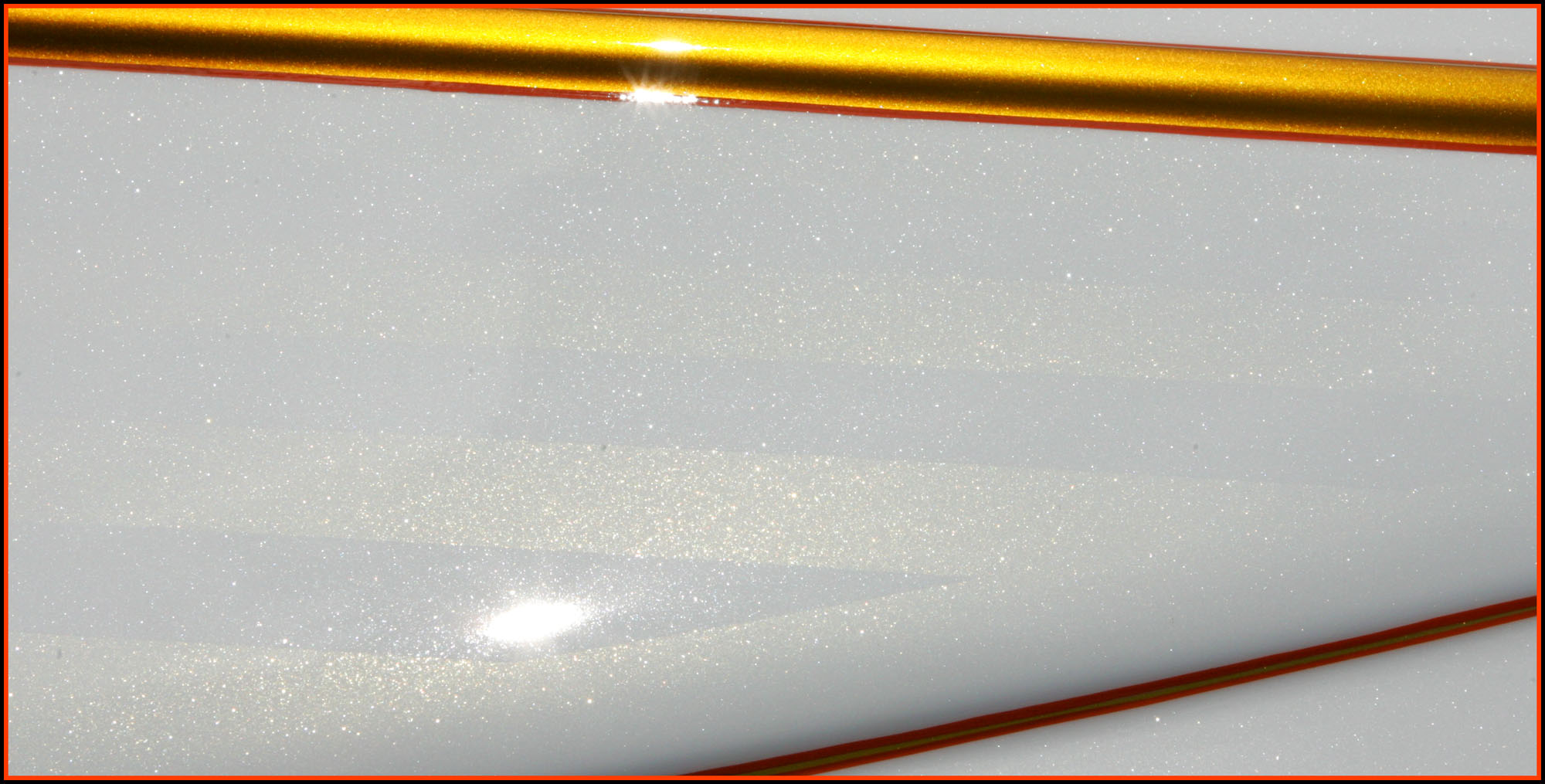 Restored in full pearl white with lots of ghost effects next to the candy colors over xotic crystals.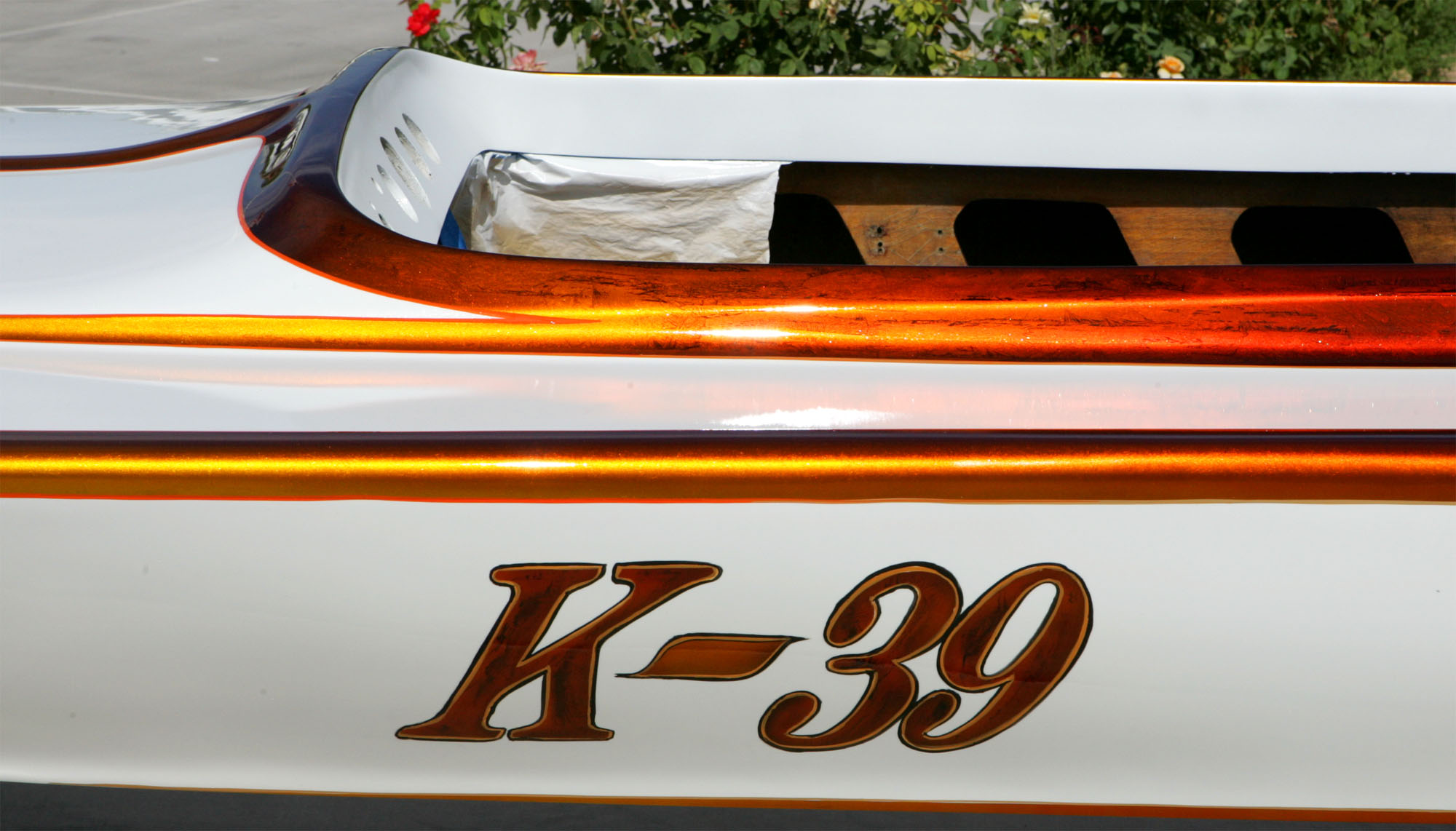 The candy fades from a light gold, through orange to violent deep red.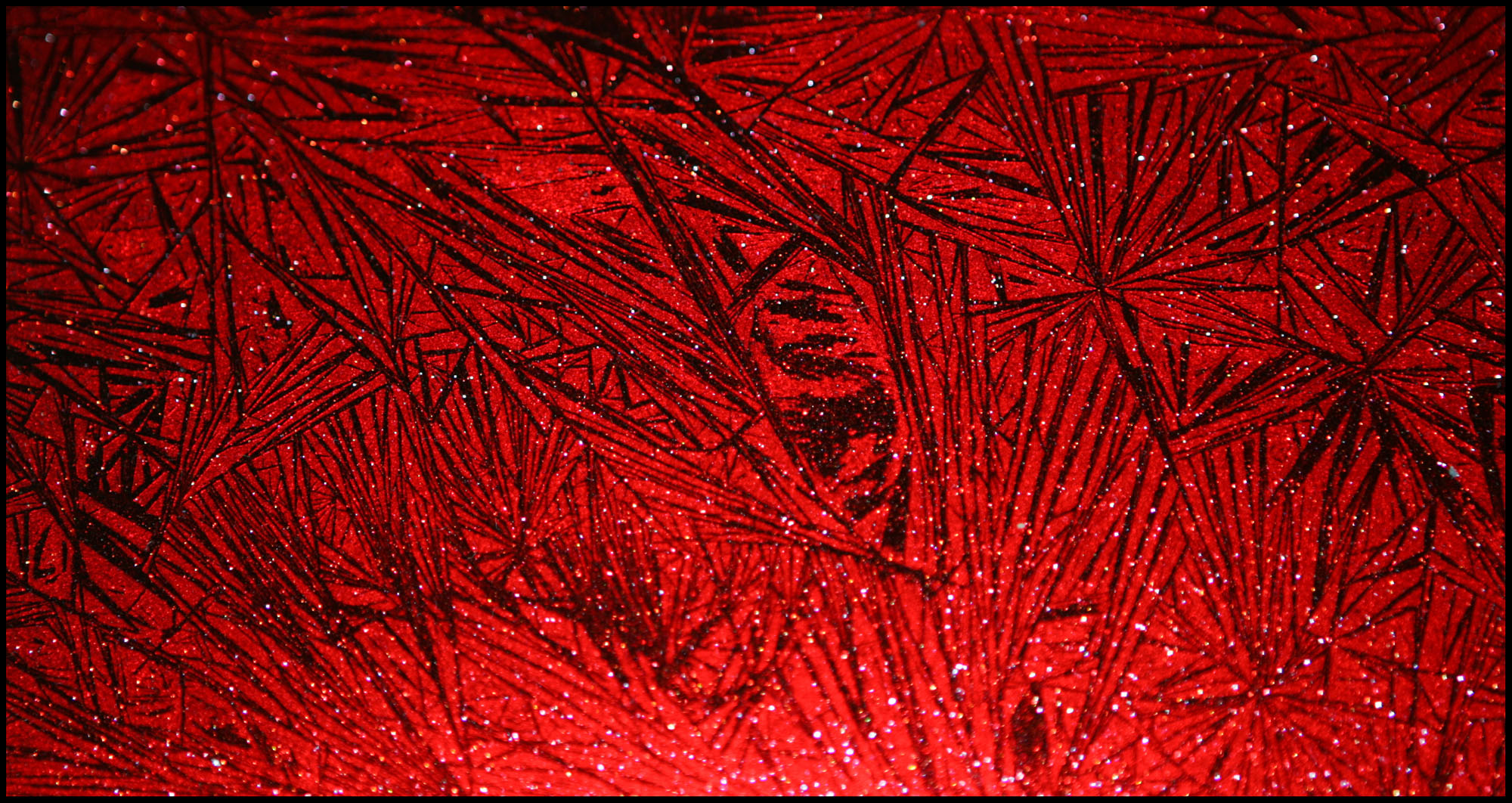 Here is some of the red from the back of the boat in close up.
This paint job HAS to be seen in person to appreciate.
100% shot in xotic colors, candies, pearls, crystals and clears.
The brand new Randy Hagerty 1963 corvette pro modified sports a custom 1 off 'Wannabe' hood designed just for this car and the 780 cubic inch Chevy. The car was sprayed in a custom House Of Kolor gold, and X-otic black. The black was cleared with gloss clear, and in contrast the gold was shot with sikkens matte clear.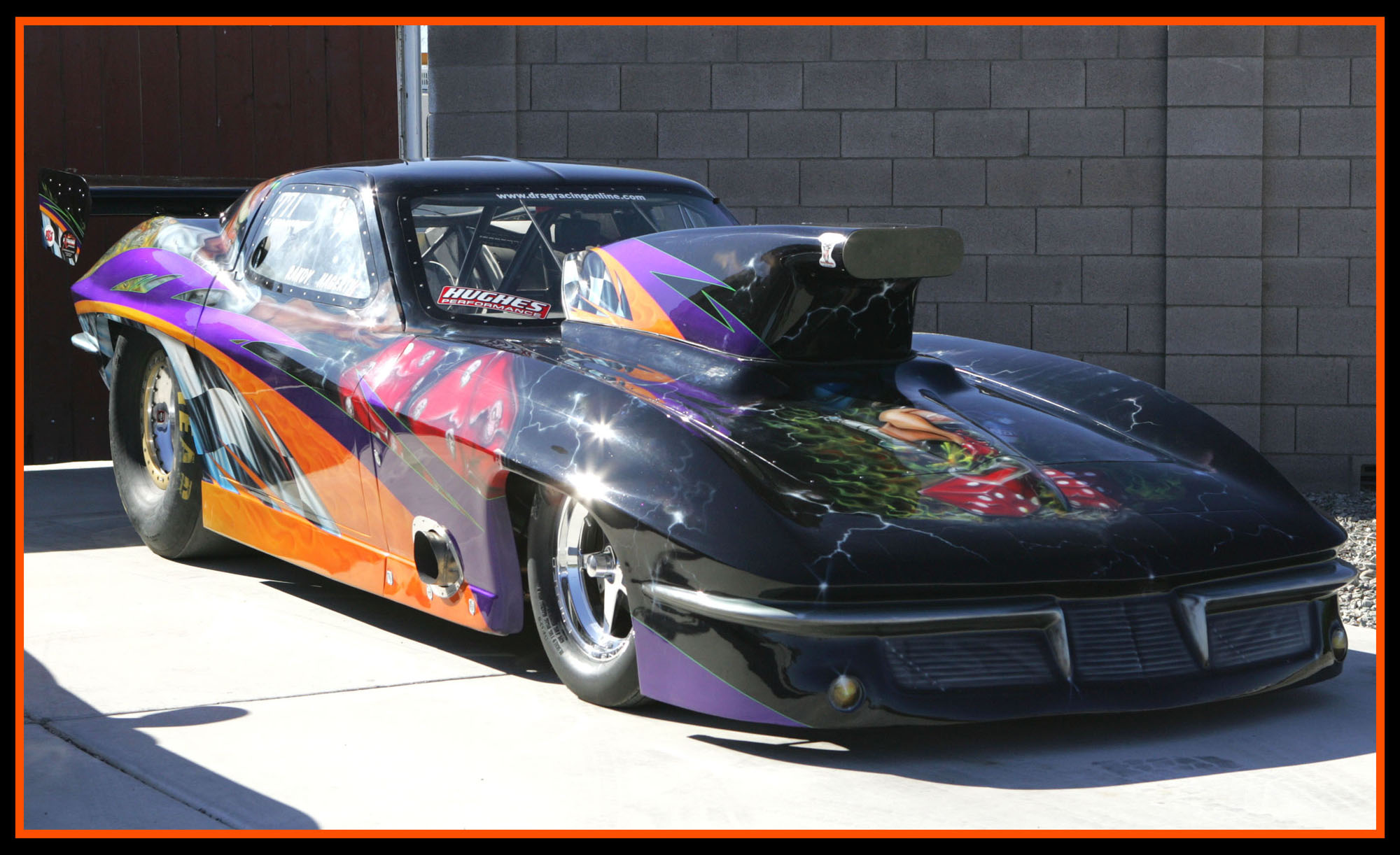 Wannabe Racing cannot take full credit for this paint job on Randy's 1966 Corvette. However, when the car lost control and climbed the wall in Phoenix, the front right and the right rear of the car were completely demolished. Wannabe Racing completely custom built new pieces out of carbon fiber, then installed them in the existing body, then copied the paint scheme and air brushing to match. Some other repairs including tree work, welding and some other items were also done at the Wannabe shop.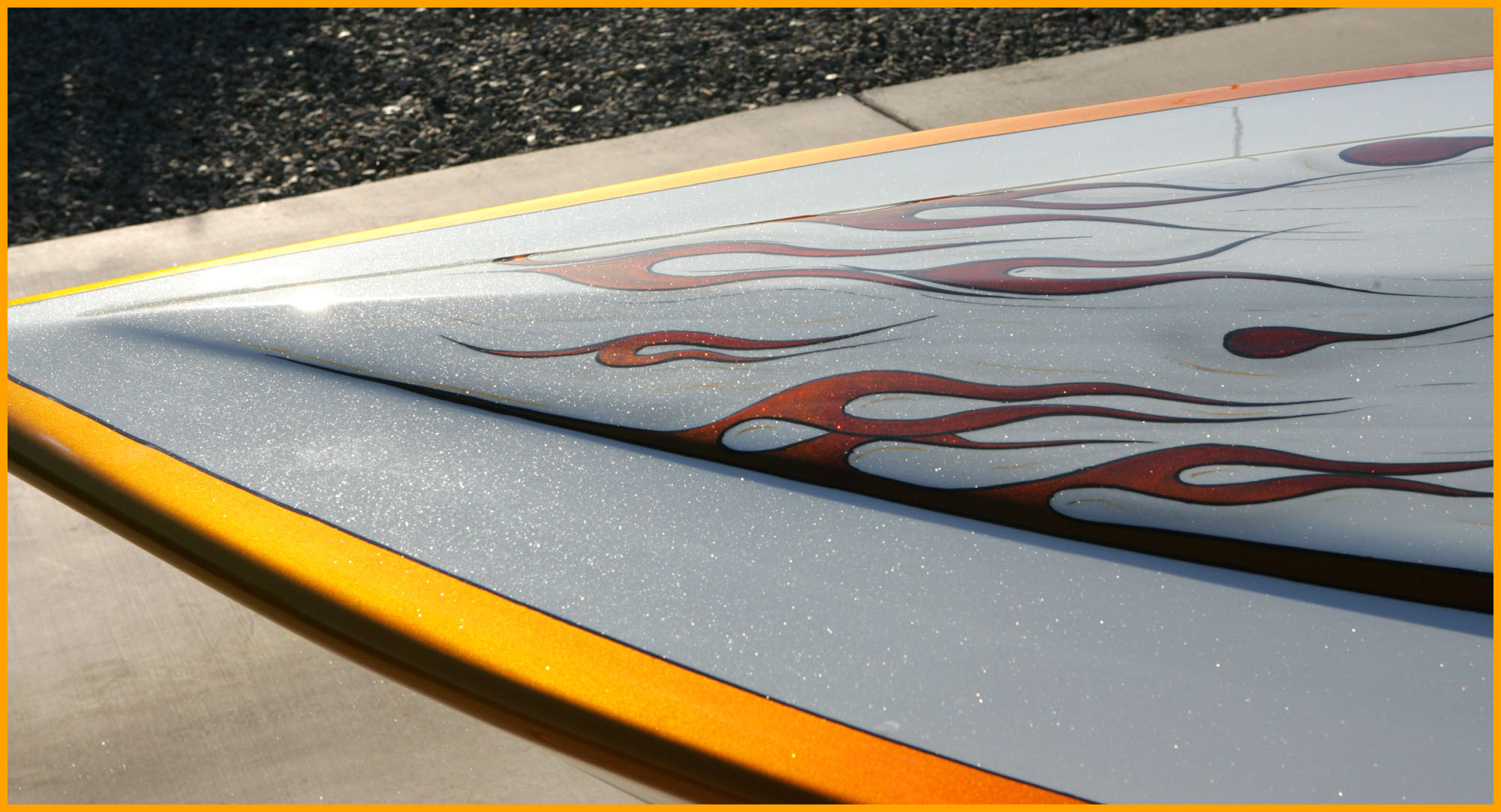 Then back to some older stuff;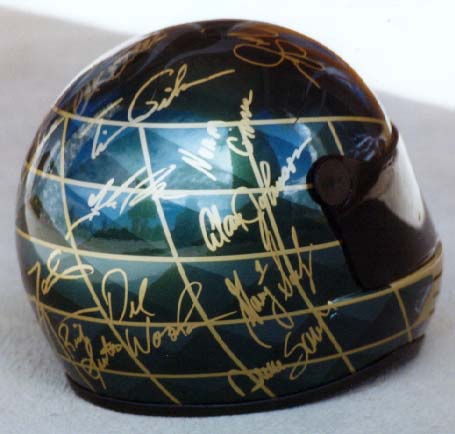 This particular helmet was purchased off of EBAY. It was grossly misrepresented. But, rather than have to touch it to a human, for fear of catching some disease, It was cleaned out, painted and signed by all of the pro drivers that test in Tucson, Arizona. Signatures include the likes of Scotty Cannon, John Force, Del Worsham, Alan Johnson, Norm Grimes, Rick Santos, Tim Gibson, Jerry Toliver, Dale Creasy, Dean Skuza, Gary Scelzi, Bruce Sarver, Tony Pedregon, John Patton, Frank Pedregon, Doug Herbert, Mike Dunn, Jim Jannard, and countless others.
Believe it or not, this multicolored paint scheme uses only two main colors, the multiple shades of green come from a custom mix of Du-pont, House of Color, and SEM pearls.

---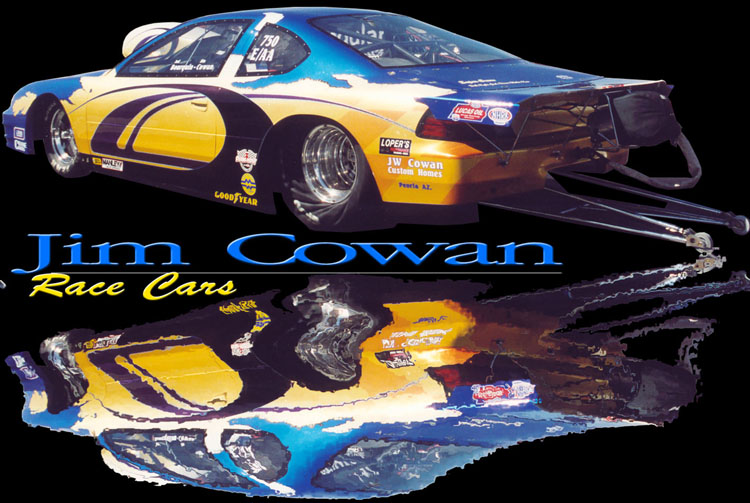 Now we go to some Bob Johnson pictures of Jim Cowan's comp eliminator car.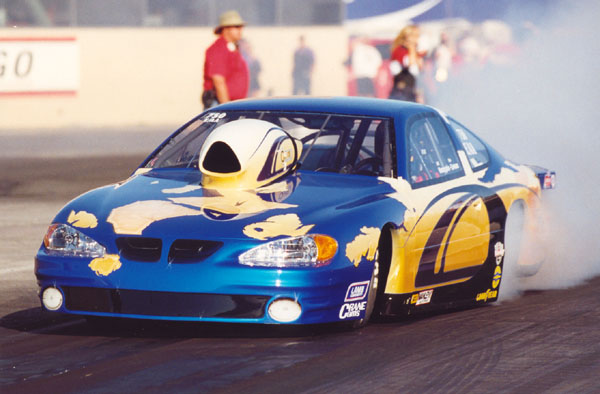 And one little close-up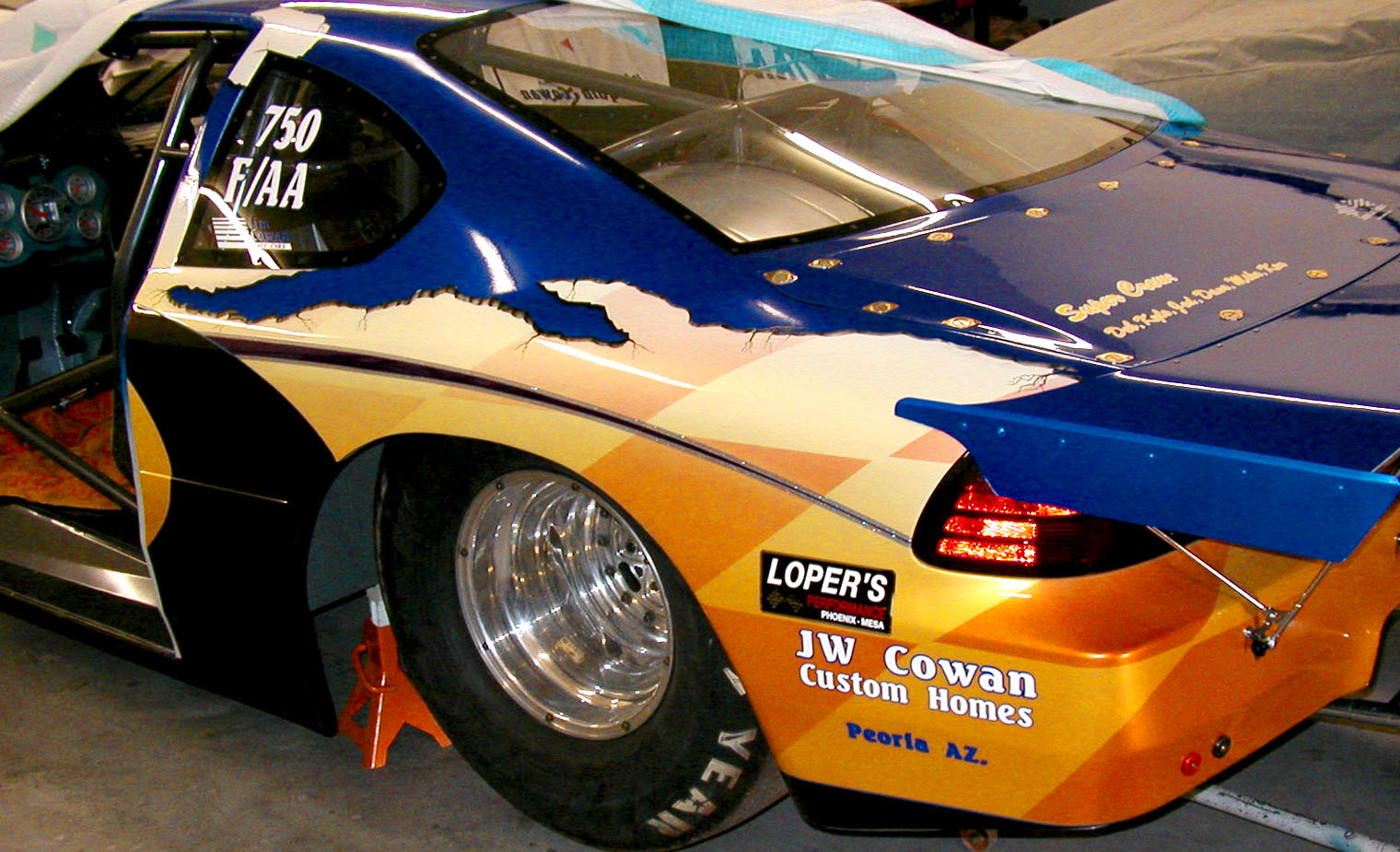 Builder, tuner, designer, and pilot- Jim Cowan,
If you are looking for one bad door car for one great price, give Jim a try.
After a while out of the pro stock game, Jim has returned to the building scene full time.
Here is his new car, painted in all X-OTIC candies, pearls and color change powders.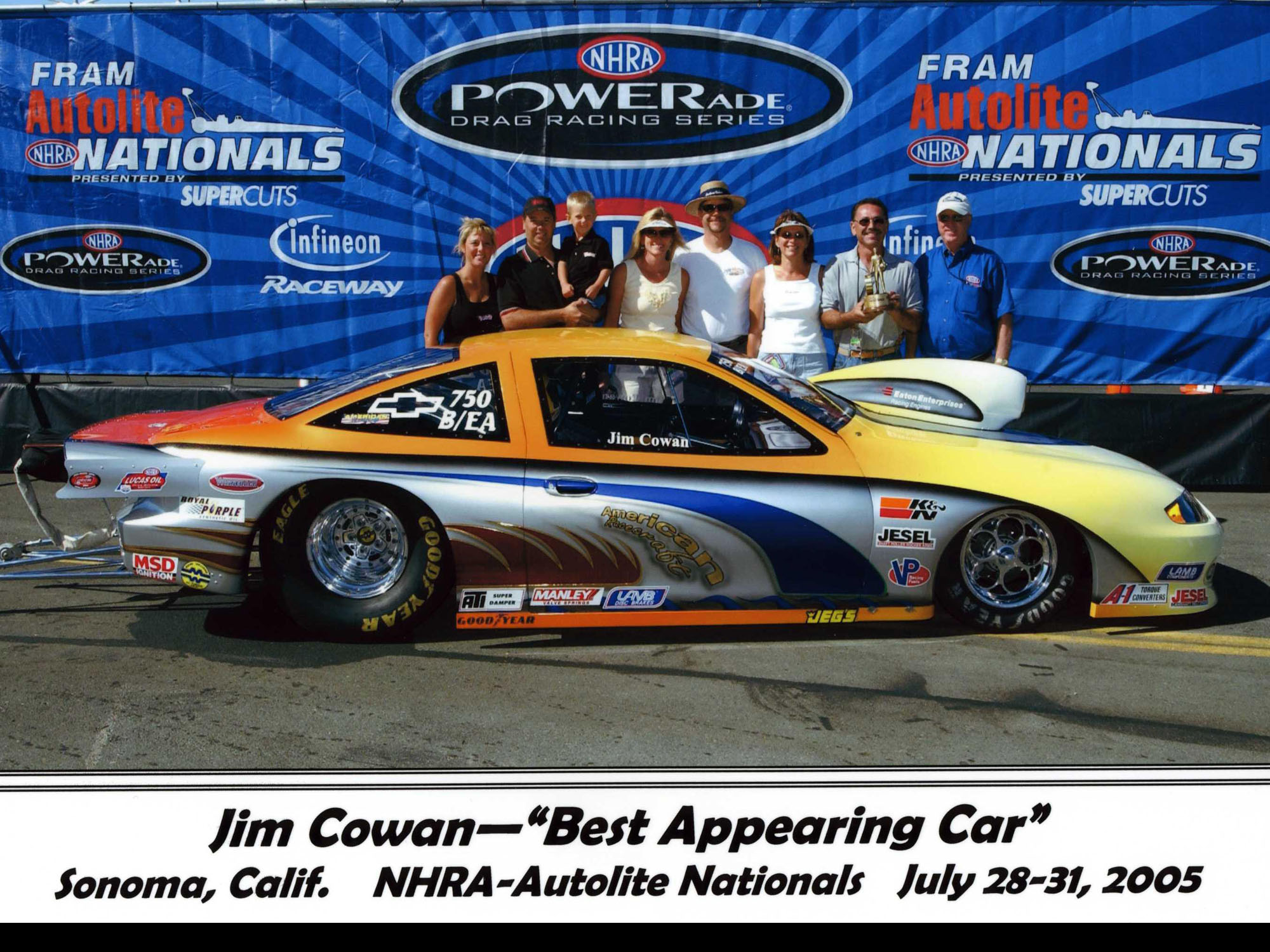 The main portion of the car fades from pearl white to pearl yellow, to paintbox yellow,
to metallic gold and then to metallic tangerine. Lots of real candies and custom gold leaf cover this car.
Here is one more from it's first pass at Las Vegas Motor Speedway. An interesting shot from Bob Johnson.You really can see the brightness of the yellow in this shot.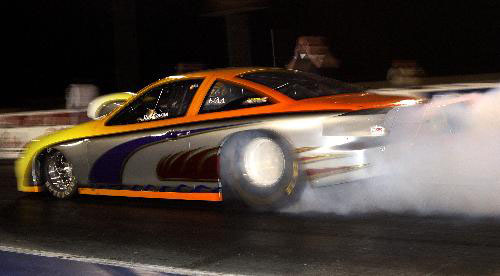 We are currently looking for a better picture of the 2004 Cavalier, but this will due for now.
Not only does he know what he is doing, and will build to suit,
But he is about half the price of the "Big 4" for the same product.
(If you would like to contact Jim, Click his website here. American Racecraft.com)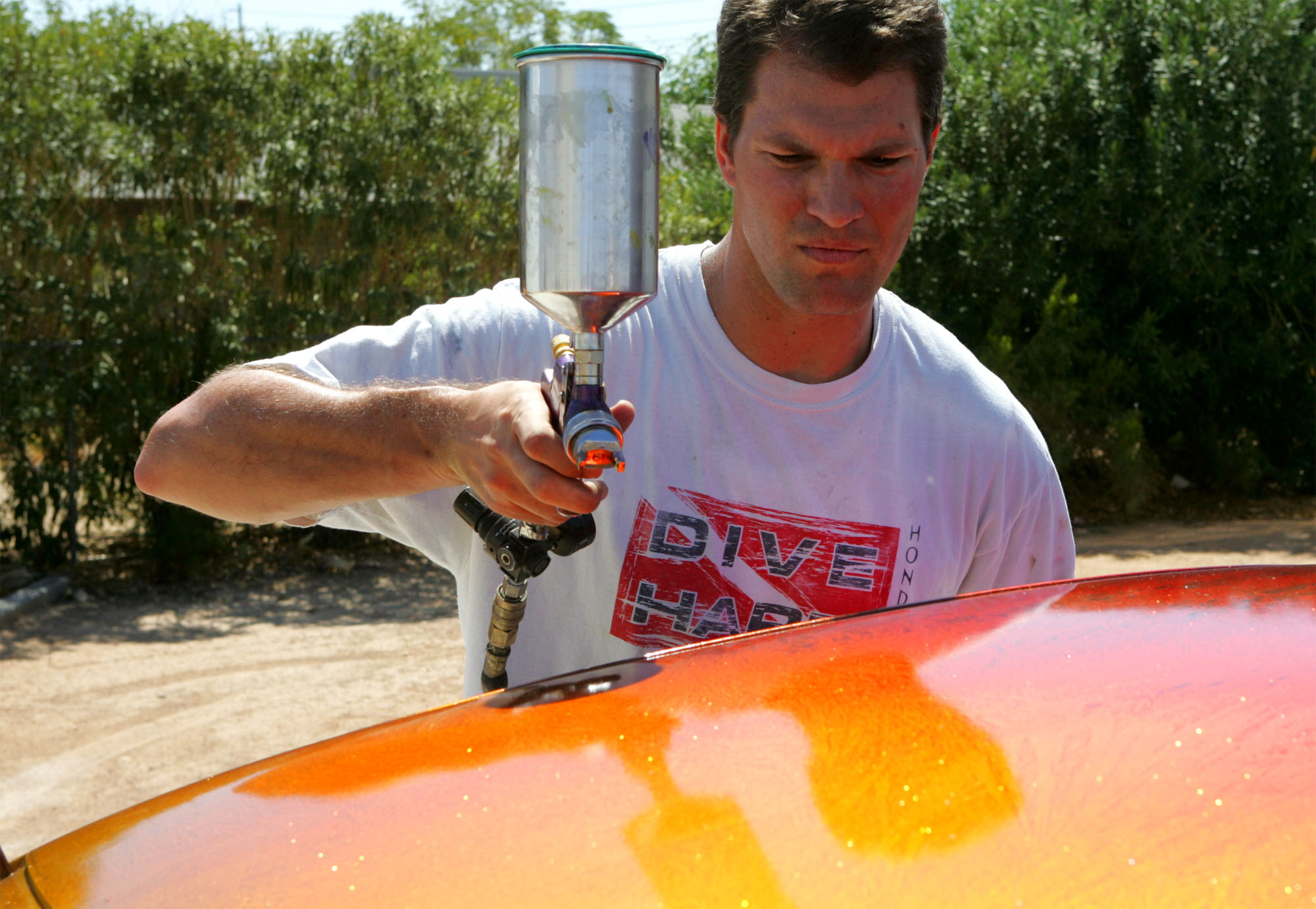 The funny thing is that we have yet to make one dime on any of our paint jobs.
They always cost much more in supplies than we get paid.
But it is fun being artistic, and we write it off as a hobby.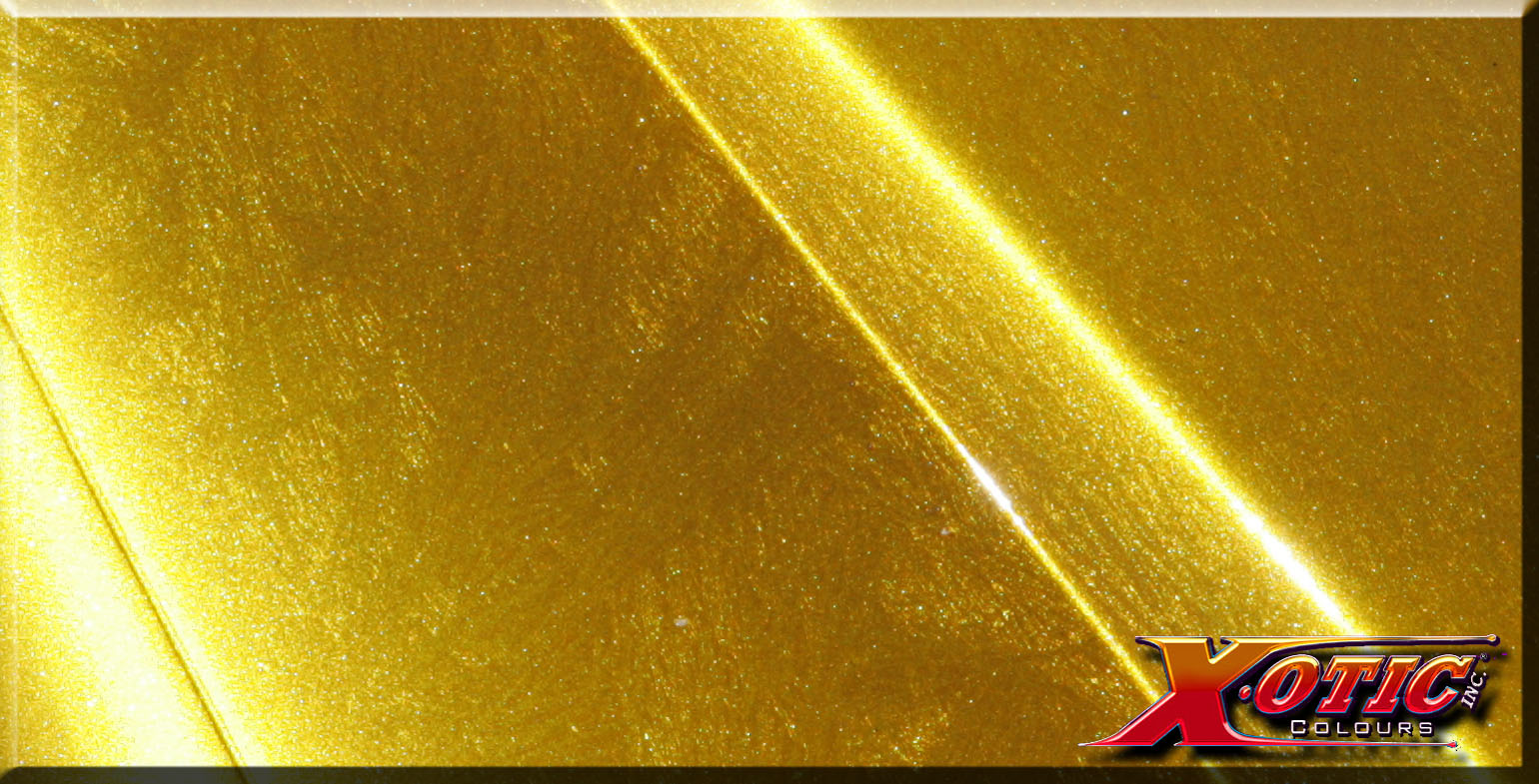 But how could you turn down color like this?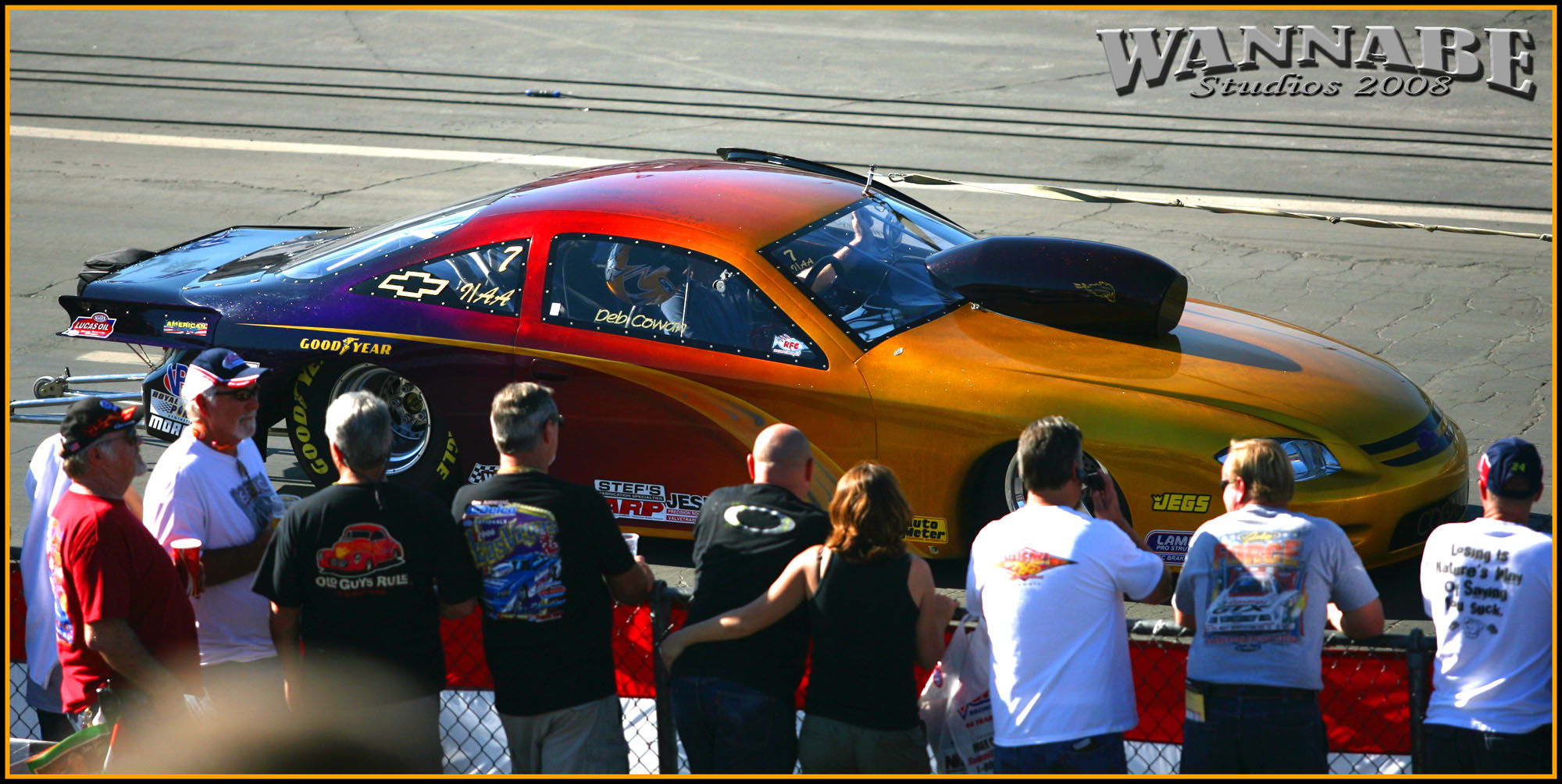 Not a real big fan of the paint scheme, but the color is something else.


Speaking of color in the sun, just check out this X-otic Colour red over a pearl white base on Eileene.
The full page of Eileene can be seen from the projects page of wannaberacing.com
or just click HERE
Again, Wannabe Custom Color is setting new ground with color, depth and experimentation
Hand in hand with the kings of custom paints. X-otic Colours custom paint.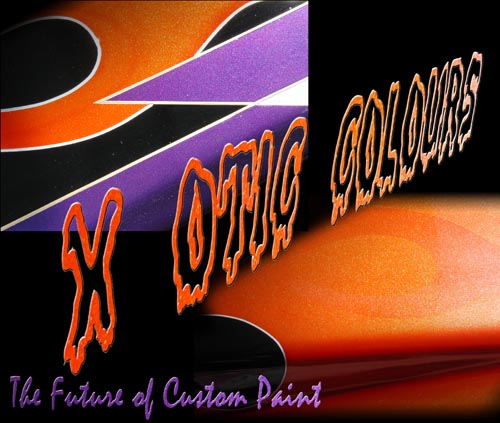 Wannabe Custom Color has been playing with X-OTIC Colours dry pearls.
these pearls can create just about any feel you wish in custom paint
even that of full color change characteristics, all in a dry pearl base. With the use of these dry pearls,
A painter can put effects upon any base they wish. In this new paint scheme of an Ibanez Prestige guitar,
The standard wood grain was pearled over with color change effects
Without losing the beautiful wood grain and Abalone inlay in the headstock.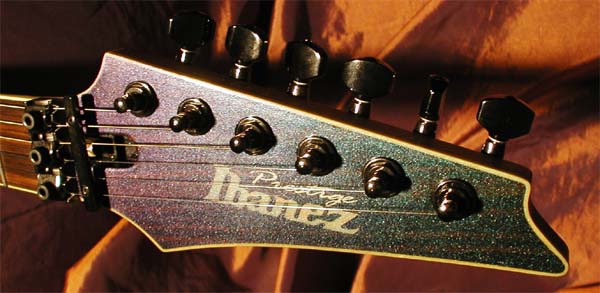 The body was shot with a black base coat and applied with three undisclosed layers
of dry pearl before any clear hit the surface. Small amounts of dry pearls found their way into
the first few layers of clear coat that actually creates quite a unique 3-D feel
that unfortunately cannot be captured with a camera.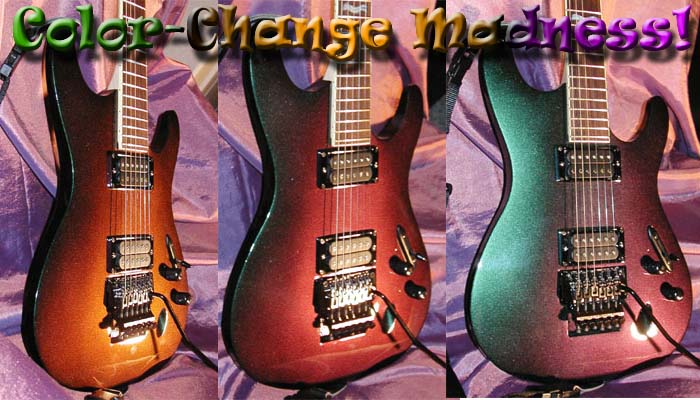 Would you expect anything less than the best the painting world had to offer with
Right about the best that Ibanez has to offer?
(Special features of this guitar are many- Including custom DiMarzio pickups, and custom electronics.
Making this guitar, as the builder says, the most versatile sounding electric guitar he has ever heard!!)
Please do not ask if you can buy this guitar. The owner made it quite clear, that he is so pleased with the final product, that "It is NOT for sale!"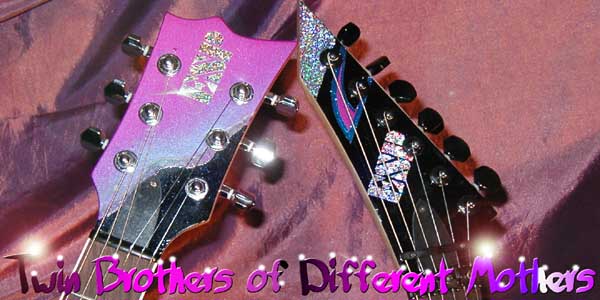 These two ESP guitars were purchased stock off of the showroom floor.
They were first clothed in full custom electronics.
The Strat style in DiMarzio Air Norton and Tone Zone pickups with full single/double coil potential.
The Gibson style, named "Less-Paul" outfitted in EMG active 81 and 85's a-la Zakk Wylde.
Then came the paint. Both outfitted in numerous layers of X-otic Candy Colours.
With the use of faded, layered, sprinkled and air brushed pearls, color change powders,
And even a giant dose of holographic flakes for the strat.
A contest was created between the two, to see how many layers of clear would fit on a guitar.
Paul's strat style won that contest with just over 20 layers.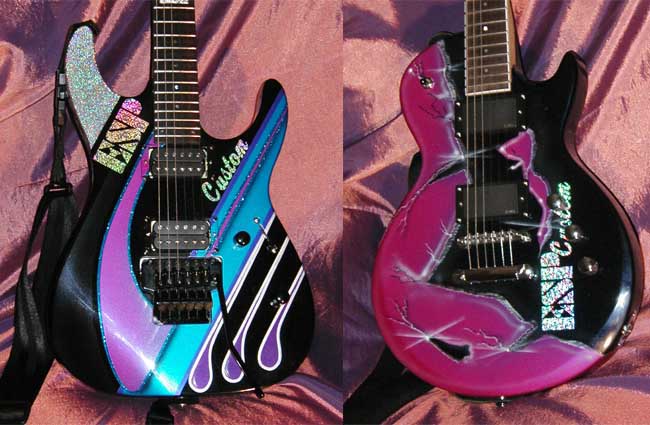 Even though these guitars were once stock, the owners decided they were altered sufficiently
To wear the distinction of "Custom"